Experience shows us that technology leaders adapt well to models that combine two elements: 
performance
and
personality
.
We tie these elements into our own model known as EMPOWER.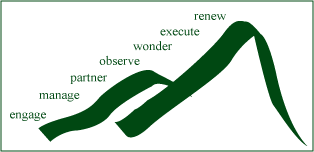 This seven-step framework is designed to help professionals navigate their work to achieve both personal and professional goals.
Step 1: Engage. Our first step is to help technology leaders refine and enhance their presence and communications skills. Improving these "soft skills" helps leaders start and maintain productive business relationships.
Step 2: Manage. Next we assess management practices such as effective delegation, goal formation and meeting management. These skills are the building blocks leaders need to achieve success.
Step 3: Partner. Technology leaders must be great partners. We improve techniques that leaders use to manage stakeholders, address issues effectively and learn the fine art of negotiation.
Step 4: Observe. We help leaders discover how to evaluate problems and solutions from different angles, involve stakeholders in solution formation, and experiment with piloting before taking a project to the next level.
Step 5: Wonder. Innovation is a skill all technology leaders need in order to thrive in the marketplace. We help leaders develop a structured ways to innovate and ensure long-term business success.
Step 6: Execute. We focus next on combining execution skills, including metrics and tracking, with leadership training to make sure that positive business results can be delivered and repeated.
Step 7: Renew. Finally, time for renewal and reflection is essential. This phase focuses on collecting systemic feedback, refining project processes and most importantly, rewarding excellence among employees and teams.