Time Management: Never Time To Do It Right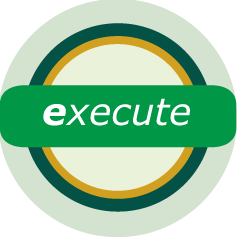 Calendar Analysis
Step 1:
Look over 2 weeks of your calendar and rank each meeting with the following scale: 1 (no value) to 5( exceptional value). Once you have done that, gather up the scores and see what you see. Here is a result from someone that really took this seriously.
In the last two weeks, I've been to 55 meetings. There was a holiday, our two full days in Charlotte, and 1.5 days in a customer strategy meeting, so this was a smaller quantity than usual. I broke them down based on a scale of 1-5. Here's how they tallied up:
1 (No Value) – 0
2 (Marginal Value) – 12
3 (Some Value) – 13
4 (Significant Value) – 21
5 (Exceptional Value) – 9
Overall, that doesn't feel like too bad, although I would definitely like fewer "2s" and more "5s". Most of the 2s fall in to one of two categories:
1. Project status/stakeholder meetings that were either:
Only for awareness or
They were looking for decisions/guidance but provided no documentation or expectations in advance. As a result, it was not an effective use of time. (in fact, in some circumstances we ran out of time before we got to the decision)
2. Related to a particular program that has been exceptionally challenging. Some related to competence, but most related to personality conflicts. We're in the middle of a number of executive escalations that are very time consuming for my peer and me and there has been so much activity within the program it has been very difficult to keep up to speed.
Step 2:
Read one of my favorite Blog Posts by Michael Hyatt –  The Ideal work week – how would you LIKE to have your week go. It should include time on it for you that is when you are your best. So – if you are a morning person, make sure you "give yourself" the morning time for your most creative work. It should look like this: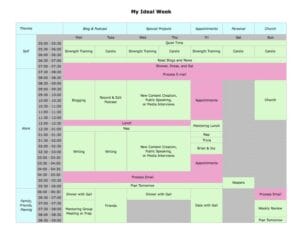 Step 3
Returning to Step 1, you want to look at what you are currently doing, and how you put what you WANT to do back into the week you have planned… intentionally. Fill up the work slots with 5's first, then 4's. Then look at the remaining work and figure out how to turn it into 4's or 5's, or get rid of it.
There are three things I'm planning to do:
1. Have my admin ensure that all meeting requests clearly state their purpose and expected outcomes. If decisions are required, documentation should be provided 24 hours in advance. Awareness materials can be provided same-day.
2. Have my admin block my calendar 24 hours in advance. The same-day invites are too disruptive.
3. Work with our PMO to improve the template and quality of information contained in our project status reports. My hope is that more effective use of status reports will reduce the need for status meetings, or at least make them more effective.
Our Collection of Free Coaching Resources
Use these summaries of important leadership concepts as guides to help you on your professional journey.

If You're A Tech Leader or Organization
We're here for you.  Let's discuss your goals and whether matching you to one of our coaching services is the best way forward.  
No obligation and all information is confidential.